Diptera Stelviana. A dipterological perspective on a changing alpine landscape. Vol. 1 Studia Dipterologica Supplement 16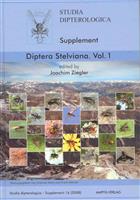 Description:
Text English with some summaries in German and Italian. Results from a survey of the biodiversity of Diptera in the Stilfserjoch National Park (Italy).
Other titles from the series : Studia Dipterologica - Supplement
You may also like...