Taxonomic revision of the Afrotropical Plastotephritinae (Diptera, Platystomatidae) Studia Dipterologica Supplement 12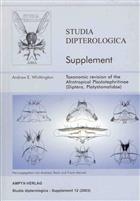 Description:
Revision of Afrotropical genera (16) and species (78). Generic key to Afrotropical and Oriental genera, and all Afrotropical species. 45 of the 78 species are newly described
Other titles from the series : Studia Dipterologica - Supplement
You may also like...