The Wood Midges (Diptera: Cecidomyiidae: Lestremiinae) of Fennoscandia and Denmark Studia Dipterologica Supplement 18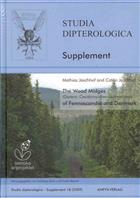 Description:
This inventory and taxonomic revision documents the occurrence of 230 species, 28 genera and 9 tribes of Lestremiinae in Fennoscandia and Denmark. Species-based information on distribution and phenology is provided and the biogeographic patterns identified are discussed. Diagnoses, illustrations and keys facilitate the identification of species (adults). An illustrated key makes the identification of all supraspecific taxa known from the Holarctic region possible. 60 new synonyms and 12 new combinaions are proposed, and 1 new genus and 56 new species are described
Other titles from the series : Studia Dipterologica - Supplement
You may also like...