The Porricondylinae (Diptera: Cecidomyiidae) of Sweden with notes on extralimital species. Studia Dipterologica Supplement 20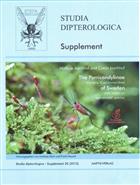 Description:
This revision is the result of four years of taxonomic and faunistic research into the Porricondylinae of Sweden. This family is a little-studied, globally distributed group of forest-dwelling Diptera, with several hundred named species in Europe and fewer than 30 species recorded in Sweden prior to this study. The present inventory shows 206 species and 53 genera occurring in Sweden, including 57 species and 10 genera new to science. Male genitalia and other adult morphological structures of taxonomic significance are illustrated for almost all species. Keys and diagnoses for tribes, genera and species. The revision takes account of taxa from the whole Holarctic region, with 81 new synonyms and 49 new combinations.
Other titles from the series : Studia Dipterologica - Supplement
You may also like...