Ecology of oligotrophic, subarctic Thingvallavatn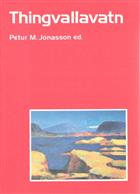 Description:
OIKOS 64. Text English. This monograph concerns the whole catchment of this famous Icelandic lake, covering its geological origin, its physical and chemical features, vegetation and animal life.
Condition
Fine. From the library of Prof. J. Green (1928-2016) with his name to endpaper.
Other titles from the collection : Prof Jim Green
You may also like...