Fauna Iberica 33: Crustacea, Copepodos Marinos II. Non Calanoidea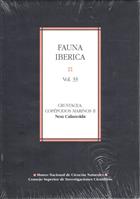 Series : Fauna Iberica
Volume: 33
Publisher : CSIC
Published In : Madrid
Illustrations : 209 text figs
Description:
Text Spanish. Second volume on marine copepods of the Iberian/Balearic region. Includes 200 species: Cyclopia (27 spp.), Harpacticoida (21 spp.),
Misophrioida (11 spp.), Monstrilloida (21 spp.), Mormonilloida (2 spp.),
Platycopioida (1 spp.), Poecilostomatoida (115 spp.), Syphonostomatoida (6
spp.). Keys to orders, families, genera and species
Other titles from the series : Fauna Iberica
You may also like...