First Report of the Wellcome Research Laboratories at the Gordon Memorial College Khartoum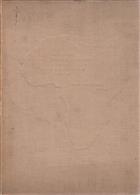 Description:
Contents include: Mosquito work in Khartoum...; Biting and noxious insects other than mosquitoes; Insect and vegetable parasites injurious to crops; Eosinophilia in Bilharzia disease and dracontiasis; The mosquitoes of Egypt, the Sudan and Abyssinia. Colour plates of mosquitoes and other insects by C. Beard.
Condition
8vo, orig. cloth, rubbed and lightly soiled. Owner's name to endpaper.
You may also like...