Forests and Insects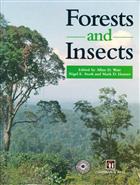 Description:
Covers the most critical issues concerning insects in forest ecosystems, both tropical and temperate, such as the long-term population dynamics of forest pests, the evolution of forest pest problems, pollution and climate change, insect diversity in forests, and insect conservation.
Condition
Vg. Slight spotting to edges. From the library of Trevor James (1947-2020), Hertfordshire naturalist and coleopterist, with his bookplate.
Other titles from the collection : Library of Trevor James (1947-2020)
You may also like...