Formicidae-Vespidae / Myror-gettingar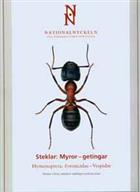 Description:
Text Swedish with species summaries in English. Covers 133 species of ants and social wasps found in Sweden.
Condition
Vg in d/w (short edge tear to rear cover).
Other titles from the series : National Encyclopedia to Swedens Flora & Fauna
Other titles from the collection : Michael Archer's Library
You may also like...