Handbook of the Mammals of the World. Vol 1: Carnivores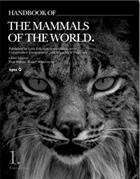 Description:
Text English. Vol. 1 covers the Carnivores: Cats (Felidae), Linsangs (Prionodontidae), Civets, Genets and Oyans (Viverridae), African Palm Civets (Nandiniidae), Hyenas (Hyaenidae), Mongooses (Herpestdiae), Dogs (Canidae), Bears (Ursidae), Red Panda (Ailuridae), Racoons (Procyonidae), Madagascar Carnivores (Eupleridae), Skunks (Mephitidae), Weasels (Mustelidae)
Other titles from the series : Handbook of Mammals of the World
You may also like...