Handbook of the Mammals of the World. Vol. 3: Primates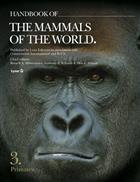 Description:
Text English. Vol. 2 covers the Primates: Prosimians (lemurs, lorises, pottos and tarsiers in Africa and Asia); 157 species of monkeys in the New World tropics; 158 monkeys in the Old World tropics; 25 apes (19 gibbons, 6 chimpanzees, gorillas and orangutans).
Other titles from the series : Handbook of Mammals of the World
You may also like...