Hydroids provenant des Croisieres du Prince Albert Ier de Monaco (Résultats des Campagnes Scientifiques accomplies sur son yacht par Albert Ier, Prince Souverain de Monaco, Fascicule LX)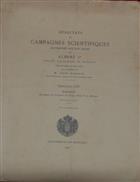 Description:
Text French. Albert I (1848-1922) was Prince of Monaco from 1889. He devoted much of his life to oceanography, and scientific exploration.
Condition
4to, plain paper covers, titles printed to glassine wrapper, minor damage to edges and spine of wrapper. Vg.
Other titles from the series : Résultats des Campagnes Scientifiques Prince Albert de Monaco
Click to view all titles in this series...
Malaquin, A.; Carin, F.
Price £45.00