Méduses provenant des Campagnes du Prince Albert Ier de Monaco (Résultats des Campagnes Scientifiques accomplies sur son yacht par Albert Ier, Prince Souverain de Monaco, Fascicule XCII)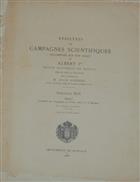 Description:
Text French. Albert I (1848-1922) was Prince of Monaco from 1889. He devoted much of his life to oceanography, and scientific exploration.
Condition
4to, plain paper covers, titles printed to glassine wrapper, insect damage to edges and spine of wrapper; edges uncut, gatherings unopened; some insect damage to upper blank margin of both plates, more extensive to the second, which has some loss, but not affecting the printed images.
Other titles from the series : Résultats des Campagnes Scientifiques Prince Albert de Monaco
Click to view all titles in this series...
Malaquin, A.; Carin, F.
Price £45.00

You may also like...