Index to the families, genera, species of the Gammaridean Amphipoda (Crustacea)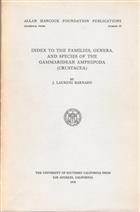 Description:
Allan Hancock Foundation Publications. Occasional Paper no.19
Condition
Orig. wrapper, ink title to spine. From the library of Prof. J. Green (1928-2016) with his signature to title page. A few pencil annotations. Vg.
Other titles from the collection : Prof Jim Green
You may also like...