Insect Life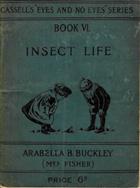 Description:
Cassell's 'Eyes and No Eyes' Series Book VI. Lessons for children. Contents page states,' These lessons are intended to be read after the teacher has given one or more lectures on the subject'.
Condition
Wrapper worn. Fair
Other titles from the collection : Ken Smith
You may also like...