John Ray Dictionariolum trilingue Edition Prima 1675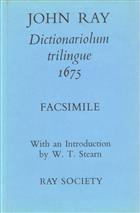 Description:
Introduction by W.T.Stearn. John Ray (1627-1705) was 'the supreme British Naturalist of the 17th century'. This three language dictionary (English, Latin and Greek) lists vocabulary under 32 subject headings including the names of birds, mammals, fish, insects, herbs, trees and shrubs, ailments, diseases, clothes, food and drink, domestic utensils, agricultural, carpentry and horticultural tools and rooms of houses.
Condition
Vg in d/w. From the library of Prof. J. Green (1928-2016) with his name to endpaper.
Other titles from the series : Ray Society Monographs
Other titles from the collection : Prof Jim Green