La collection de papillons et les espèces menacées d'Auvergne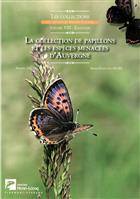 Description:
The museum Henri-Lecoq in Clermont-Ferrand, France, has a large Lepidoptera collection totaling more than 100,000 specimens, in 18 separate collections. The collection represents a rich source of data for the historical study of butterfly populations, which are constantly declining. This volume presents these collections by evoking the lives of the collectors who originally formed them and offers a fresh perspective on the endangered species of Auvergne.
You may also like...