Lake Stechlin: An approach to understanding an oligotrophic lowland lake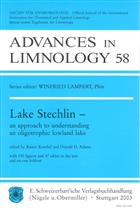 Description:
Arch. Hydrobiol. Spec. Issues Advanc. in Limnol. 58.
Condition
Ink title to spine. Vg. From the library of Professor J. Green (1928-2016) with his name to title.
Other titles from the collection : Prof Jim Green
You may also like...