Les Longicornes des Petites Antilles (Coleoptera, Cerambycidae) Taxonomie, Ethologie, Biogeographie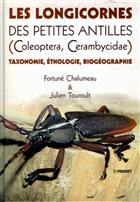 Description:
Text French (keys + summary English). Monograph on the longhorn beetles of the Lesser Antilles (West Indies). Catalogue of all 135 known species. Illustrated keys. 55 col photos of living beetles/habitats, 150 set specimens
Other titles from the series : Series Faunistica
You may also like...