Les Poissons du Bassin du Congo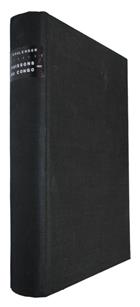 Description:
Text French. Rare.
Nissen ZBI 495.
Condition
8vo, later black cloth, orig. front wrapper retained. Vg. From the library of Prof. Jim Green (1928-2016), Professor of Zoology at Queen Mary College, University of London, with his name to endpaper. Also with printed paper ownership label of Vittorio Emanuele III (1869-1947), King of Italy from 1900-1946, to verso of wrapper, "Proprietà privata di Sua Maestà il Re Vittorio Emanuele III".
Other titles from the collection : Prof Jim Green
You may also like...