Moths of America North of Mexico 17.2: Geometroidea, Geometridae, Ennominae (part: Abaxini, Cassymini, Macariini)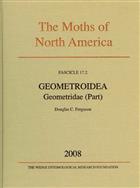 Description:
Treats 169 species in 17 genera. 1 genus, 22 species, and 3 subspecies newly described. Adults of all species are illustrated by 532 specimens and larvae of 81 species by 105 images. Identification keys for all genera and many species based on characters of adults together with illustrations of wings and genitalia with notes on variable characters. Immature stages of 81 species are illustrated
Other titles from the series : Moths of America North of Mexico
You may also like...