Numerical Ecology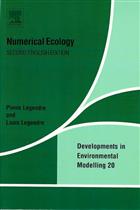 Description:
Second English edition. The book describes and discusses the numerical methods which are successfully being used for analysing ecological data, using a clear and comprehensive approach. These methods are derived from the fields of mathematical physics, parametric and nonparametric statistics, information theory, numerical taxonomy, archaeology, psychometry, sociometry, econometry and others.
Condition
Light creasing to spine. Vg.
Other titles from the collection : Prof Jim Green
You may also like...