Phylogenetic versus convergent relationship between piscivorous cichlid fishes from Lakes Malawi and Tanganyika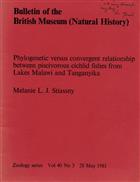 Description:
Bull. BM(NH) Zoology 40(3): 67-101
Condition
Wrappers. Vg. A few annotations. Inscribed by author. Letter from author enclosed.
Other titles from the series : Bulletin of The Natural History Museum: Zoology
Other titles from the collection : Prof Jim Green
You may also like...