Pioneers of Public Health: The Story of Some Benefactors of the Human Race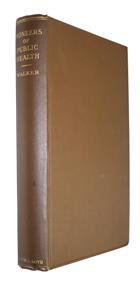 Description:
Foreword by Sir Humphry Rolleston. Preface states 'These slight sketches of the lives and works of the eminent scientists who form the subjects of the essays contained in this book, were suggested to me by seeing their names written large on the walls of the new building of the London School of Hygiene and Tropical Medicine as I walked down Gower Street one day in Agust 1928'. Includes chapters on: Thomas Sydenham; Sir John Pringle; James Lind; Johann Peter Frank; Edward Jenner; Lemuel Shattuck; Sir Edwin Chadwick; William Farr; Sir John Simon; Max von Pettenkofer; Edmund Alexander Parkes; Louis Pasteur; Lord Lister; Timothy Richards Lewis; Robert Koch; Sir Patrick Manson; Alphonse Laveran; Walter Reed; William Crawford; Hermann M. Biggs and Sir William Leishman.
Condition
8vo, orig. cloth. Some foxing to fore-edge and title page. Owner's names to endpaper. Vg.
You may also like...