Répertoire Mondial des Crustacés Copépodes des Eaux Intérieures. III. Harpacticoïdes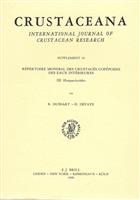 Description:
Text French. Crustaceana, International Journal of Crustacean Research, Supp. 16.
Condition
Ink lettering to spine. Vg. From the library of Prof. J. Green (1928-2016) with his name to half-title.
Other titles from the collection : Prof Jim Green
You may also like...