Scombrids of the World:An Annotated and Illustrated Catalogue of Tunas, Mackerels, Bonitos, and Related Species Known to Date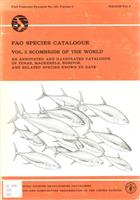 Description:
FAO Species Catalogue, Vol. 2. FAO Fisheries Synopsis No. 125, Vol. 2
Condition
Wrappers. Good ex-lib. copy.
Other titles from the collection : Prof Jim Green (1928-2016)
You may also like...