The Catherwood Foundation Peruvian-Amazon Expedition: Limnological and Systematic Studies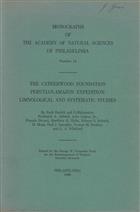 Description:
Monographs of the Academy of Natural Sciences of Philadelphia, 14. Systematic studies include: Protozoa, Invertebrates, Odonata nymphs, Ephemeroptera, Plecoptera numphs, aquatic Hemiptera-Heteroptera, Megaloptera, aquatic Lepidoptera, Trichoptera, Diptera, aquatic Coleoptera, Cyanophyta, Rhodophyta, Chlorophyta, Bacillariophyta.
Condition
Owner's name neatly inscribed to front wrapper. Vg.
Other titles from the collection : Prof Jim Green
You may also like...