The Descent of Man and Selection in relation to Sex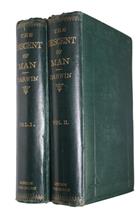 Collection : Ken Smith
Publisher : John Murray
Published In : London
Illustrations : 78 woodcuts in text
Description:
Eighth thousand (the fourth issue of the first edition, issued December 1871 - the book first appeared in February of the same year). Both volumes with 16-page pubisher's catalogue dated January, 1872, bound at rear. Small changes were made in the text of the third and fourth issues (7th and 8th thousand) and Darwin remarks in the preface to the second edition (1874), 'during successive reprints of the first edition of this work .... I was able to introduce several important corrections' (Freeman 1977). The word 'evolution' occurs, for the first time in any of Darwin's works, on page 2 of the first volume of the first edition …. before its appearance in the sixth edition of 'The origin of species' in the following year.
Freeman 940.
Condition
2 vols, cr. 8vo (195x125mm), orig. cloth, gt, some rubbing and minor wear to extremities. Front hinge to Vol. I reinforced with black paper to match endpapers; Vol. II with small piece torn from blank lower corner of a few pages, and a larger piece from corner of rear endpaper. Foxing to endpapers, half-titles, and publisher's catalogue. A good set.
Other titles from the collection : Ken Smith
You may also like...