The Fishes of the Families Pseudochromidae, Lobotidae, Pempheridae, Priacanthidae, Lutjanidae, Pomadasyidae, and Teraponidae collected by the United States Bureau of Fisheries Steamer 'Albatross', chiefly in Philippine Seas and adjacent waters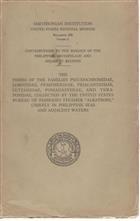 Description:
US Nat.Mus.Bull. 100 Vol.11
Contributions to the Biology of the Philippine Archipelago and adjacent regions
Condition
Ex-lib copy.
Other titles from the series : United States National Museum Bulletin
You may also like...