The Formation of Vegetable Mould, through the Action of Worms, with Observations on their Habits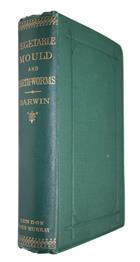 Description:
Third thousand. This work was first published October 10, 1881, with the second to fifth thousand also being printed in the same year. 'The book was remarkably successful, selling 6,000 copies within a year, and 13,000 before the end of the century. To begin with it sold faster than The Origin of Species had.' (Freeman). Darwin's last book. With errata slip tipped in before page 1.
Freeman 1359.
Condition
8vo, orig. blind-stamped green cloth, gt, slightly rubbed at corners. Some pages unopened; very light crease to top corner of several gatherings. A very good, well-preserved copy. Book-plate of J. Kentish Wright.
Other titles from the collection : Ken Smith
You may also like...