The Freshwater Microscopist. Pt 3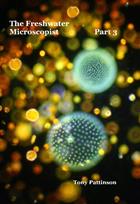 Description:
The third book in this series about the collection, observation and mounting of freshwater organisms. Written from a personal viewpoint, this volume builds on techniques described in Parts 1 & 2 to cover the preparation, double-staining, and mounting of amphipods. Many other subjects, including a new process for separating diatoms from sand, and a simple means of digitally organising and presenting the contents of diatom strews. Copiously illustrated.
Other titles from the series : The Freshwater Microscopist
You may also like...