The Generic Names of the Beetle Family Staphylinidae: with an essay on genotypy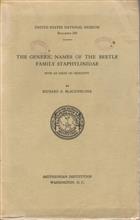 Description:
Bull.U.S. Nat. Mus. No. 200.
Condition
Wrappers sealed in self-adhesive cover. Ink stamps to front wrapper and title-page. Some pages unopened.
Other titles from the series : United States National Museum Bulletin
You may also like...