The Gunong Benom Expedition 1967. 2. An outline description of the forest zones on north-east Gunong Benom; 3. Bryophytes and filmy ferns from Gunong Benom2.An Outline Description of the Forest Zones on North-East Gunong Benom.3.Bryophytes and Filmy Fern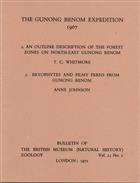 Description:
Bull BM(NH) Zoology, 23(2)
Condition
Vg.
Other titles from the series : Bulletin of The Natural History Museum: Zoology
You may also like...