The Leafhoppers and Planthoppers of Germany (Hemiptera: Auchenorrhyncha)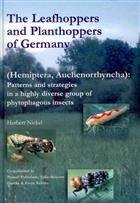 Description:
Text English. Systematic overview of phenology, food plants, habitat requirements, geographical and altitudinal distribution and economic importance of all species known from Germany. Further analyses deal with life strategies such as host specificity, dispersal and life cycles.
Other titles from the series : Series Faunistica
You may also like...