The Life and Letters of Charles Darwin: Including an Autobiographical Chapter. Vol. I-III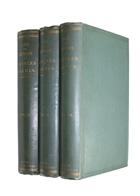 Collection : Ken Smith
Publisher : John Murray
Published In : London
Illustrations : 3 portrait frontispieces, 2 plates, 2 illus
Description:
Complete in 3 volumes. Second edition, with some small corrections. Erratum slip facing p. 1, Vol. I. The first published version of Darwin's autobiography, which went through five printings (of which this is the third) in little more than a year. Sir Francis Darwin (1848-1925) was a botanist and son of Charles Darwin. Francis Darwin's books on his father have provided the basis for all subsequent scientific biographies and papers on Darwin.
Freeman 1454.
Condition
3 vols, 8vo, orig. cloth, very minor bumps to a few corners. Gatherings in Vol. III largely unopened. A very good set.
Other titles from the collection : Ken Smith
You may also like...