The Limnogonus and Neogerris of the Old World with Character Analysis and a Reclassification of the Gerrinae (Hemiptera: Gerridae)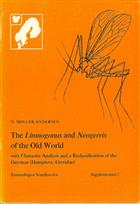 Description:
Entomologica Scandinavica Supplementum 7.
Condition
Vg. From the library of Prof. J. Green (1928-2016) with his name to endpaper.
Other titles from the series : Entomologica Scandinavica Supplements
Other titles from the collection : Prof Jim Green
You may also like...