The Plants of Mount Kinabalu. Vol. 1: Ferns and Fern Allies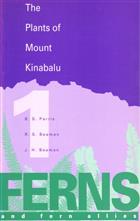 Description:
Mount Kinabalu, in Borneo, has an extremely rich and diverse flora. Volume lists over 600 species of ferns and fern allies, with notes on ecology and altitudinal range, and a list of material examined.
Condition
Owner's name to half-title. Vg.
You may also like...