The Ultimate guide to Breeding Beetles: Coleoptera Laboratory Culture Methods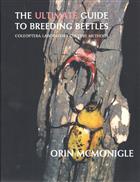 Description:
This book brings together detailed husbandry and breeding information on the most popular beetles for the insect hobbyist. There are full chapters on rhinoceros beetles, flower beetles, dung beetles, jewel scarabs, stag beetles, and darkling beetles. Details are also given on such groups as diving beetles, glowworms, dermestids, carrion beetles, ground beetles, passalids, and longhorn beetles. Details are included on topics like caging, substrate, larval and pupal rearing, feeding, and inducing breeding. The author's wealth of practical experience is supplemented by a full array of color images of these beetles in various life stages: eggs, larvae, pupae, and adults. This is, without a doubt, the ULTIMATE guide to breeding beetles, and will be a valuable resource for every invertebrate hobbyist
You may also like...