Treefrogs of Africa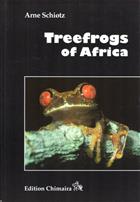 Description:
The present book gives a complete account of all recognised species and subspecies of treefrogs in continental Africa and its adjacent islands. Of the 254 forms treated in this book, more than two hundred are illustrated with colour photos – in the majority of cases published for the first time. Sonograms visually portraying the voices are given for all forms where the voices have been recorded and distribution maps are provided for all forms.
Condition
Vg. From the library of Prof. J. Green (1928-2016) with his name to endpaper.
You may also like...