Wetlands and Shallow Continental Water Bodies. Vol. 1-2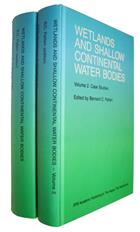 Description:
Vol. 1: Natural and Human Relationships; Vol. 2: Case Studies. Illustrations include a poster-format, full-colour vegetation map of the Okefenokee Swamp.
Condition
2 vols. Fine set as new.
Other titles from the collection : Prof Jim Green
You may also like...