World Directory of Crustacea Copepoda of Inland Waters. Vol. I - Calaniformes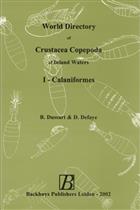 Description:
2nd edition. The first edition of this directory was published almost 20 years ago. Since then, numerous new species have been described, some genera and families have been revised, and new synonymies and updated keys have been published. These changes have all been incorporated into this extensively revised and enlarged English edition. The 8 families treated are: Aetideidae, Clausocalanidae, Centropagidae, Pseudodiaptomidae, Acartiidae, Sulcanidae, Temoridae, and Diaptomidae (the most widely 2 distributed family of inland waters)
Condition
A fine copy.
You may also like...