A Treatise on the Western Hemisphere Caraboidea (Coleoptera). Their classification, distributions, and ways of life. Vol. 3: (Carabidae - Loxomeriformes, Melaeniformes)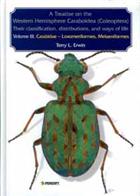 Description:
Information for each taxon: nomenclature, distribution (country and/or state/province level), macrohabitat, microhabitat, dispersal, seasonal occurrence, behaviour, references. Extensive bibliography
Other titles from the series : Series Faunistica
You may also like...