British Spiders. Vols I-III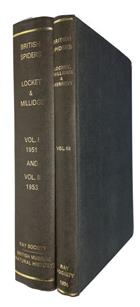 Description:
Reprint. Vols I and II reprinted in a single volume (first published in 2 vols by the Ray Society in 1951 and in a single volume by the BM(NH) in 1978); Vol. III (first published 1974).
Condition
3 vols in 2, 8vo, bd. Previous owner's name to endpaper of Vol. 3. Vg.
Other titles from the series : Ray Society Monographs
Other titles from the collection : Michael Archer's Library
You may also like...