Bryophyta: Buxbaumia - Leucobryum / Bladmossor: Sköldmossor - blåmossor (Nationalnyckeln till Sveriges Flora och Fauna)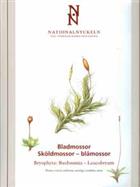 Description:
Text Swedish with species summaries in English. Covers 262 species of moss from Buxbaumia to Leucobryum. Each species is described in detail and very well illustrated with more than 1000 water colours and photographs. Some of the species have never before been illustrated in colour
Other titles from the series : National Encyclopedia to Swedens Flora & Fauna
You may also like...