Butterflies of East Africa: Pocket Guide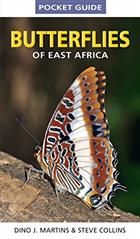 Description:
A compact guide providing an introduction to the butterfly diversity of East Africa. It introduces 246 of the more common, spectacular and interesting species found in Uganda, Kenya, Tanzania, Rwanda and Burundi. Each species account features: concise text describing key identification features, habits,habitat and larval food plants; full-colour photographs; distribution maps showing the butterfly's range. This handy guide should prove invaluable to beginners and more experienced butterfly enthusiasts alike.
Other titles from the series : Struik Pocket Guide
Click to view all titles in this series...

Martins, D.J.
Price £7.50

Picker, M.; Griffiths, C.
Price £7.50
You may also like...