Carabidae. Ecology, Atlas Fauna Helvetica 24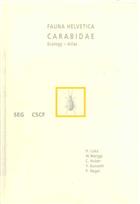 Description:
Ground beetles and tiger beetles (Coleoptera, Carabidae) can act as excellent indicators of the conservation value of habitats. This work includes a quantitative analysis of a large set of original data. The resulting annotated list, based on strong empirical evidence, is an easy-to-use source for a variety of research areas such as bioindication, faunal studies, or biogeography. The underlying data for this work was derived from the evaluation of taxa caught using two recording methods: manual catches yielding more than 203,000 specimens of 520 species, and pitfall traps yielding more than 822,000 specimens of 231 species. In Switzerland, 523 species of tiger beetles and carabids have been recorded, totalling 550 taxa (species and subspecies). The total number is composed of 362 monotypic species, 144 polytypic species represented by only one subspecies in Switzerland, and 17 polytypic species represented by more than one subspecies (2 to 6 subspecies, totalling 44 subspecies)
Other titles from the series : Fauna Helvetica
You may also like...