Charles Darwin's Notebooks, 1836-1844: Geology, Transmutation of Species, Metaphysical Enquiries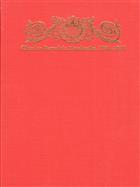 Description:
Darwin's notebooks provide an invaluable record of his scientific thinking and most importantly, the development of his theory of natural selection. This edition of the notebooks, prepared to the highest standard of textual editing, thus affords a unified view of Darwin's professional interests.
Condition
Fine copy.
Other titles from the collection : Ken Smith
You may also like...