Guide to Rushes (Identification Chart)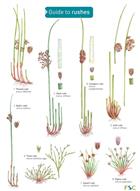 Description:
Guide to Rushes covers 32 species of rushes and wood-rushes. Clear colour illustrations include many magnified views of key diagnostic features, such as flower heads, stem pith and seed shape. Lateral keys to the genera Juncus and Luzula are included.
Other titles from the series : FSC IDENTIFICATION CHARTS
You may also like...