The Challenger Expedition (1872-1876), Henry Bowman Brady (1835-1891) and the Challenger Foraminifera / (2) The Lady Blake Collection: Catalogue of Lady Edith Blake's Collection of Drawings of Jamaican Lepidoptera and Plants / (3) Charles Darwin's St. Hel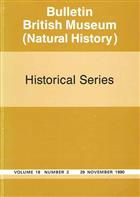 Description:
Bull. Br. Mus. Nat. Hist. (Hist. Ser.) 18(2): 115-227.
Condition
Vg.
Other titles from the series : Bulletin of The Natural History Museum: Historical
Other titles from the collection : Ken Smith
You may also like...