The Systematics and Zoogeography of the Amphibia of Borneo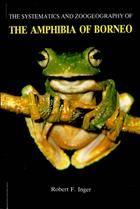 Description:
This is a reprint of the 1966 work, originally published as part of the Chicago Field Museum of Natural History Fieldiana, Zoology series. This monograph was the first attempt to summarise knowledge of the rich tropical amphibian fauna of Borneo, and it remains the major reference on the subject. The book comprises the systematics, with a key to families, and descriptions of all species with notes and maps of known range, followed by the section on zoogeography. Species are illustrated where possible with photographs or drawings.
Condition
Vg. From the library of Prof. J. Green (1928-2016) with his name to endpaper.
Other titles from the collection : Prof Jim Green
You may also like...